Shop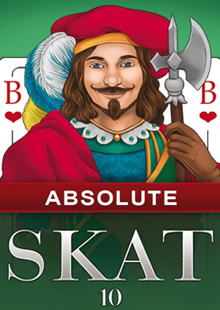 Info
Release date: 2. January 2017.
Genre: Casual
Platform: iOS
Language: English
Original developer: Magnussoft
System requirements:


iPhone 5 or newer

iPad 2 or newer
Absolute Skat v10
Skat, the most popular card game in Germany, is now also available in this improved version for iPhone and iPad.
Whether you're a beginner or a professional, in Absolute Skat 10 you'll find what you need for an exciting game of Skat. Different difficulty levels and extensive option settings give you the possibility to design the card game individually. Now start your cozy Skat evening!
This absolutely new, more comprehensive Absolute Skat 10 version contains several, extended viewing modes for handhelds or smaller displays (XXL mode). With special map decks and the unfrozen, as well as the extragrove display, it is now even easier to play on these devices.
The elaborately reworked, self-learning AI is now even more adapted to the wishes of the Skat players.
All features included, no In-App-Purchases necessary!
Features:
- Different levels of difficulty, both for casual players and for skilled Skat players
- Several different card decks (German and French sheets), several specially designed for mobile phone players!
- Various map views (also half-display) for more overview in the game
- Selectable game options, such as: View last stitch, faster / slower animations, view points, avatars, and more.
- Different playing fields
- Intelligent opponents with new improved AI
- Extensive game evaluation
- Individual memory function
- Cards on hand are freely sortable plus the possibility of automatic sorting
- Any device orientation supported (portrait and landscape format)
- Language editions of the players