Shop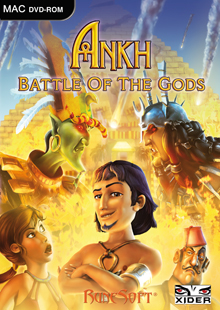 Info
Release date: 14. December 2009.
Genre: Adventure
Platform: Mac
Languages: Deutsch, English, French
Original developer: Deck 13
System requirements:
OSX: MacOS 10.6.6 or higher, 1,8 GHz Intel, 1 GB RAM, 3D GFX card with 256 MB RAM.
Ankh: Battle of Gods
The omens of the Battle of the Gods have been many, signalling the impending fight for supremacy over all other gods of Egypt. And of course, Assil will be caught in middle of it all. Together with girlfriend Thara, he will have to prevent the sinister Seth from winning the battle and subjecting Egypt to his regime of terror. With the typical Ankh humor, numerous bizzare characters and gags by the wagonload, Ankh - Battle of the Gods is again a candidate for the adventure gaming throne.
Battle of the Gods features several new locations, including Luxor, the gambling capital of ancient Egypt. And an unexpected trip takes Assil to a far-away, exotic location, where he will have to deal with the wholly unfamilar conventions of its native people. The new Ankh features even more detailed character models and smoother animations.
Features:
- The best Ankh of all times, featuring the most detailed models and animations in the history of the series
- Completely new locations in picturesque settings
- Old friends and funny characters guarantee for the unique Ankh humor