Jade Rousseau: The Secret Revelations": Mac version shipping now
20. April 2011.
Jade Rousseau: The Secret Revelations": Mac version shipping now
Runesoft has started shipping the Macversion of "Jade Rousseau: The Secret Revelations" for the Mac. The game is available from most Macdealers and via the Mac Appstore.
Jade Rousseau is a street-smart detective, but a troubled soul. Seeking some solitude—or perhaps simply to run away from her past—the disillusioned Rousseau transfers to a remote police outpost in the northern Italian Alps: Sant' Antonio. But what she stumbles onto in this quiet little town will be sure to change her life! Help Jade, and her mysterious new partner David, investigate a series of murders and strange occurrences, which lead into a larger mystery involving: secret societies, terrorist activity and church scandal!
Follow the clues from the small Italian town of Sant' Antonio all the way to Rome, and even into the secret recesses of the Vatican itself! On your journey collect evidence, put the pieces together; decipher ancient codes and symbolism; and solve a variety of puzzle mini-games. But be careful with your choices and conclusions, as powerful mysteries will surely be protected at all costs by powerful people!
The series—produced by phenomedia publishing gmbh, working closely together with renowned adventure game developer Deck13 (developer of the Ankh series, Jack Keane, and Venetica)—will be a unique experience, offering players all the unfolding drama, plot twists and excitement of a mystery-detective saga but in the form of an interactive adventure game.
Every self-contained episode will include information that can be used to unlock additional exclusive content in the following episodes. For the first season a total of 6 episodes are planned which will be released over the course of the next few years. Gamers can join the story with any episode because they are all self-contained... but wouldn't it be far more exciting to start from the beginning and find out even more about the characters, background and delve deeper into all the scandalous entanglements?
Product Features
• Episode No 1 in the Jade Rousseau series of mystery adventures
• Experience a mystery detective drama as an unfolding interactive adventure series
• Intriguing real world content where you investigate secret societies and ancient codes and symbolism and terrorist activity and church scandal
• Variety of story related puzzle minigames
• Interesting characters and beautiful cut scenes
Shop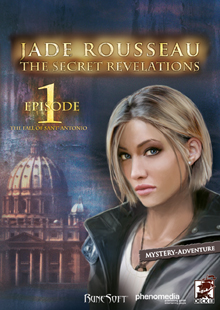 Info
Release date: 20. April 2011.
Original developer: Deck 13