Shop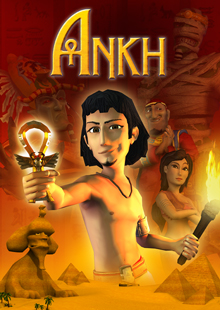 Info
Release date: 25. August 2011.
Genre: Adventure
Platforms: Linux, Mac
Languages: Deutsch, English, French
Original developer: Deck 13
System requirements:


OSX: MacOS 10.6.6 or higher, 1,8 GHz Intel, 512 MB RAM, 3D GFX card with 64 MB Video RAM.

Linux:
Ankh
Egypt. A long, long time ago. After a forbidden party in a pyramid, young Assil gets struck by a horrible death curse. With just a few more hours to live, Assil has to find a way to talk to the only person who can now help him to remove this curse: the mighty pharaoh himself! During his wild adventure, Assil meets many strange and funny characters: the scary crocodile, the god of the underworld... and finally the woman of his dreams.
Features:
- Innovative 3D cartoon adventure
- Impressive, detailed and endearingly animated graphics
- classic Point&Click navigation
- dozens of funny characters
- Tons of black humor
- Over 100 items to use
- numerous challenging puzzles and riddles